This solid wood rustic farmhouse platform bed is the epitome of a cozy and inviting sleeping space. Made from high-quality, durable wood, this bed boasts a charming rustic design with a sturdy headboard that creates a warm and welcoming atmosphere in any room. The rich wood grain and natural finish make this bed perfect for cabins, retreat centers, dormitories or any bedroom in need of a touch of rustic charm. The platform design eliminates the need for a box spring, providing a clean, minimalist look. The slatted base provides extra support and comfort for a great night's sleep.
This solid wood bed is built to last, ensuring that you can enjoy its warmth and character for years to come. Whether you're looking for a rustic space to call your own or just need a beautiful and functional bed, this solid wood rustic farmhouse platform bed is the perfect choice.
Product Detail
100% Solid Wood
Eco-friendly Stain & Finish
Handcrafted in the USA
Hardware & Easy Assembly incl.
Slat Roll & Center Support incl.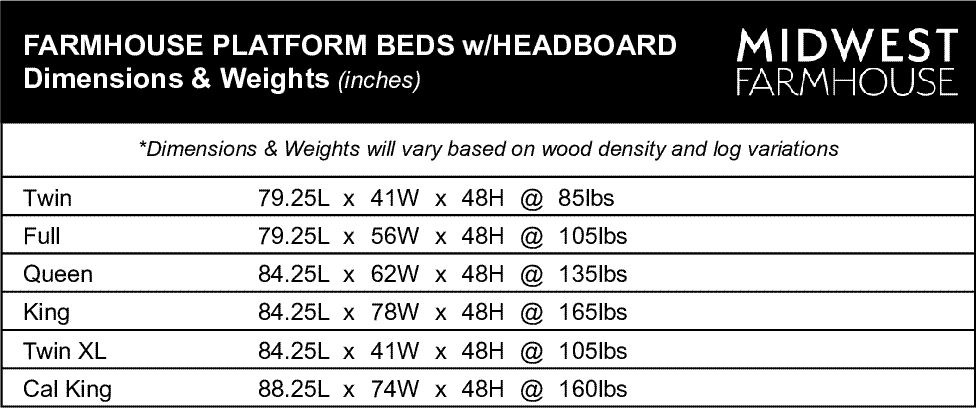 Handcrafted - Quality Furniture
Built from our commitment to customer satisfaction, quality and value, Midwest Farmhouse furniture offers a unique blend of innovative design and quality craftsmanship. Handcrafted from solid wood, our beds are joined with heavy duty fasteners and our drawers are dovetailed for added strength and durability. Across the US and Canada our furniture is used by builders, designers and homeowners to furnish cabins, lodges, camps, homes, vacation rentals, hotels and more. Midwest Farmhouse furniture is built to last and backed by a lifetime warranty. Buy with confidence knowing that hours of expert craftsmanship have gone into delivering you quality furniture at the best price.
Product Reviews