Indulge in the sophisticated charm of our solid wood rustic nightstand with 2 drawers, an impressive addition to our acclaimed Rustic Farmhouse Collection. Expertly hand-crafted from select rough cut lumber by the gifted Amish artisans in the Midwest, this nightstand is simple rustic elegance.
With its rustic farmhouse design and natural wood finish, this piece will add warmth and personality to any bedroom décor scheme. Perfect for a room with limited space, this nightstand provides ample storage options without sacrificing visual appeal. Its two generously sized drawers offer convenient, practical storage space, keeping all your essentials at your fingertips. Whether you're placing bedtime reading materials, a reading lamp, or cherished memorabilia, this nightstand provides a durable, stable base.
Each nightstand is unique, boasting the natural beauty of the wood grain with every piece hand-finished for an artisanal touch. The understated simplicity of the design is complemented by its sturdy build and robust construction, making it an exceptional investment for years to come.
Elevate the ambiance of your bedroom and experience the timeless elegance and impressive quality of this solid wood rustic nightstand with two drawers from the Rustic Farmhouse Collection.
Product Detail
100% Solid Wood
Ecofriendly Stain & Finish
Handcrafted in the USA
Fully Assembled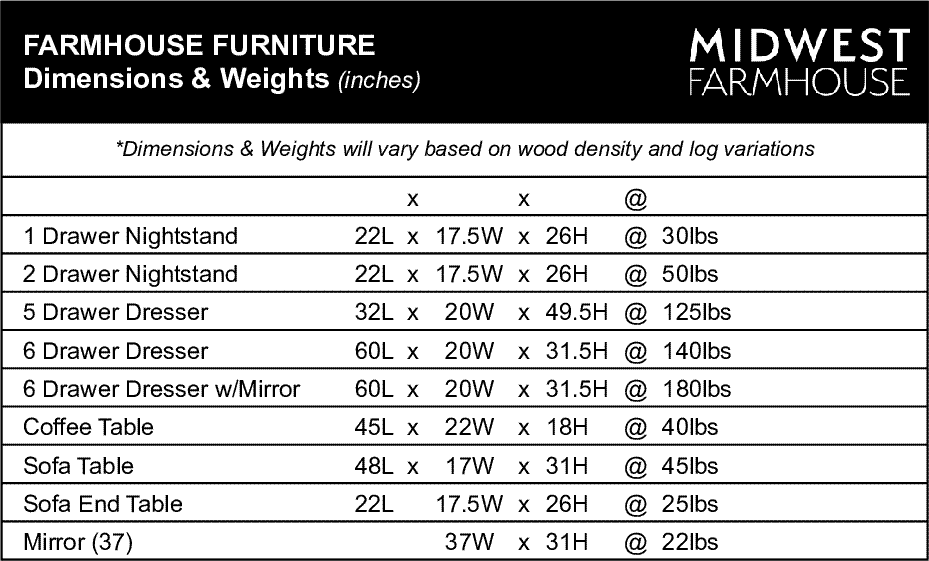 Handcrafted - Quality Furniture
Built from our commitment to customer satisfaction, quality and value, Midwest Farmhouse furniture offers a unique blend of innovative design and quality craftsmanship. Handcrafted from solid wood, our beds are joined with heavy duty fasteners and our drawers are dovetailed for added strength and durability. Across the US and Canada our furniture is used by builders, designers and homeowners to furnish cabins, lodges, camps, homes, vacation rentals, hotels and more. Midwest Farmhouse furniture is built to last and backed by a lifetime warranty. Buy with confidence knowing that hours of expert craftsmanship have gone into delivering you quality furniture at the best price.
Product Reviews